As Pakistan's leading mobile network, Jazz offers its customers the best mobile and internet services. There are a variety of data packs being offered by the company every day that range from hourly-based bundles to location-based offers that are affordable and suitable for all types of users. In this article, you can find all types of Jazz hourly, Daily, Weekly, and Monthly Internet Packages with Price and Subscription Details.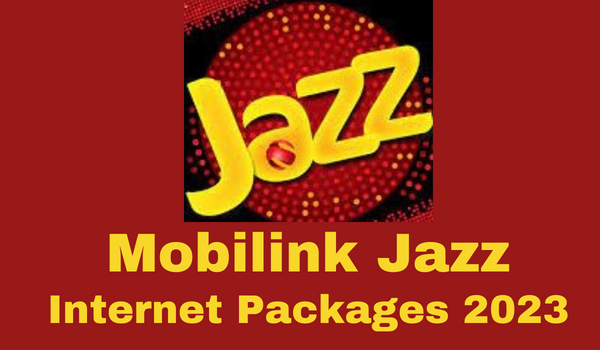 Jazz Hourly Internet Packages
Jazz offers different Hourly based Data Packages such as the "Super Ghanta offer" which offers 1 GB Internet Data for 1 Hour for just Rs. 10.5 Incl. Tax users can subscribe to this offer by dialing *638#
Jazz always introduces new data bundles for students, such as its "Student Offer" which provides 2 hours of unlimited Facebook data, unlimited on-net minutes, and 200 SMSs for just Rs. 10 inclusive. Tax by dialing *3000#.
Jazz Daily Internet Packages
The Internet has become an essential part of people's daily lives. To fulfill everyday life tasks we rely on the internet, and every person is looking for cheap internet packages that fit their budget. Mobilink Jazz is providing a wide range of daily Internet Packages to their customers to fulfill their everyday needs such as "Jazz Daily Mega offer" where you can get 1 GB of Data for just Rs 35.
Jazz has different Daily bundles for their customers such as "Jazz Daily super" where the user gets 200 MBs, 50 free SMS, and 1440 Free on-net minutes in just Rs 23 for 1 Day.
With the Mobilink Jazz, "Daily Internet Browser Offer" users can get 50 MB for just Rs 17 for 1 Day.
Mobilink Jazz is also Offering Free Whatsapp and Facebook Offer to their customer. Users can Activate Free Facebook Offer by clicking on the "Go to Free" Button on their Facebook Timeline.
Jazz 3-Day Bundles
Mobilink Jazz made Internet Bundles on the daily basis to meet the need of their customers. Some peoples need the internet for some days to do their tasks so jazz introduces some 3 Days bundles such as the "3 Day Extreme Bundle" which includes the 3 GB of Data for just Rs. 34 Incl. Tax.
Jazz Weekly Internet Bundles
Jazz has a wide range of weekly Internet Packages for their users. Users can subscribe to the internet package according to their needs. Packages like "Jazz Extremely Week Offer" where users get 25 GB of Data for just Rs 109.
Jazz also has location-wise internet Bundles where the residents of these cities can take benefit of these internet Data offers. such as "Jazz Sarghoda offer" and "Jazz Punjab Haftawar Offer" where the residents of Sarghoda can get the 2 GB of Data, 2000 On-net Minutes, and 2000 SMS for just Rs 100 while the Residents of Punjab can take benefit from "Jazz Punjab Haftawar Offer" where they will get the 10 GB of Data, 50 On-net Minutes and 5000 SMS for just 119 Rs
During the coronavirus, a lot of people start working from their homes, and they need the Internet for their work so Mobilink Jazz introduced the Data Bundle "Work from Home" In this Package, the user can get 12 GB of Data and Unlimited On-net Minutes in Just Rs 132. This Package is best for Freelancers and Job persons who are working from home.
If you Buy the new Jazz Sim then Mobilink Jazz offers you exciting free Packages such as the "Jazz new sim offer" where the new customer gets 1 GB of Internet Data, 1000 On-net Minutes, and 1000 SMS for free for 1 Week.
If you're looking for more Jazz weekly internet packages and information regarding the Previously discussed bundles, scroll down and find your preferred weekly internet bundle. We have listed all the weekly internet packages on this page.
Jazz Monthly Internet Packages
In addition to Hourly, Daily, and Weekly Internet Packages, Mobilink Jazz also offers Monthly Internet Packages. There are plenty of monthly Internet bundles that Mobilink Jazz offers to their valuable customers such as "Jazz Monthly Max" in this offer user can get 25 GB of Data, 10000 On-net Minutes, 500 Off-net Minutes, and 10000 SMS In just Rs 1000 for the period of whole Month.
If you want to use the Internet for yourself then the " Jazz Mega Monthly plus offer" is best for you. In this Bundle, you can get 12 GB of Data for just Rs 458.
If you are tired of your Wifi speed and want to change the Internet of your Home then the "Jazz Internet Monthly regular Device offer" is best for you In this offer you can get 60 GB of Data for just Rs 1740.
With the "Monthly Internet Heavy Device Offer" You can get 150 GB of Data for Rs 2690. This offer is suitable for offices where usually the internet is required for the offices' work.
With the Best 3G and 4G, Internet Service Jazz is the Best Telecom Company in Pakistan you can subscribe to any of its Internet Packages which we discuss in detail in this article.
For more details visit the official website of Mobilink Jazz.